Product Description
The Motorader DIN 4165 USB Power outlet is A compact, easy to mount charging device that provides all-weather reliability.
Installation is easy, simply attach the USB Outlet to the universal mounting bracket and plug it in. The 1 metre cable ensures easy installation with enough length depending on where your power outlet is located on bike.
Compatible with the following manufacturers using DIN-4165 plugs: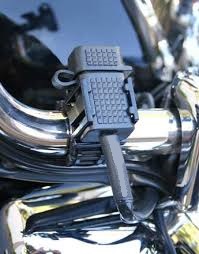 BMW
Ducati
KTM
Indian
Triumph
Victory
Features:
Input voltage: 12V ± 4.0V
USB (Output) Voltage: 5V ± 2.5V
Output Current: 2.1A Max
Quiescent Current (no load current): 35mA (0.035A)
Protection Rating: IP64 (Water wash down) when capped .
Operating Temperature Range: 0°F to 122°F (-15°C to 50°C)
Cable Jacket: Co-extruded over UL rated AWG 20 wire. Abrasion resistant, UL/CSA listed
Electrical protection:  internal auto-resetting fuse, internal auto over-temp power control, diode protected against inadvertent reverse polarity
Seal Cap: Removable
Universal Mounting System (Patented)
Installation kit includes the Motorader DIN4165 with 1 metre cable, Universal 360 degree rotatable mounting bracket and cable ties.
NOTE: This device has power consumption with no load and will drain a small motorcycle battery in as little as three to five days if connected directly to the battery. It is recommended that this device be connected to a switched power source or a device such as the Motorader MR49BC Battery Charger which will prevent battery drain when the motorcycle is not in use.
Note: Will not charge Samsung or ASUS tablets which require proprietary chargers. Blackberry devices and Casio G'zOne Commando phones require a special charging cable.